SWEEDU School Management Software
School management software is a system of tools and features that allows the school to manage and monitor almost all of the school's daily functions and resources using a single platform. It improves the productivity of the school by helping the various stakeholders of the school and making their tasks easier and faster to complete. These include teachers, administrators, students, and parents. It makes your educational institute more efficient and productive. It does so by assisting in all your different tasks.
Managing the school and all its processes needs time, money, effort, and a lot of resources. This limits the efficiency and productivity at which a school works. The school management software boosts your school's productivity by simplifying the tasks. It makes them manageable for the administrator and other stakeholders of your school.
The online school management software is also called School Enterprise Resource Planning (ERP) Software or School Management ERP. when it offers the resource planning features in the same software.
It consists of various features, tools, and automation. It can help to reduce your workload while running your school smoothly. The truly best school software caters to administrators, teachers, students, and parents. It is also helpful for other stakeholders like accountants, receptionists, wardens, and bus drivers.
The top software for school management system allows the school administration to manage the school database without any hassle. You do not have to keep any physical records that may get damaged due to weather or misplacement.
Similarly, it allows better teaching with dedicated tools for teachers to improve the quality of education.
It provides learning flexibility for students so that they can study from wherever and whenever they want.
For parents, the school management system offers seamless communication between school and parents.
It has many other features to offer every stakeholder of your school. Each of these features is carefully created to make your work at school easier, faster, and more productive. This improves the education quality and gives higher institutions profits.
Why is SWEEDU School Management Software a must?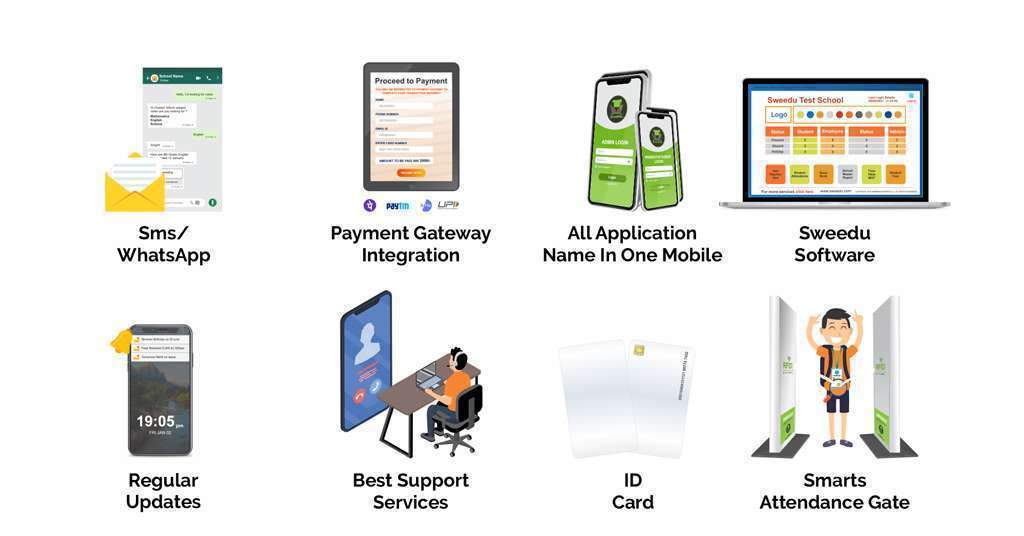 The school management software is designed to give more accessibility and flexibility to everyone working in your educational institute. It will increase their work speed, improve efficiency, and optimize resources to boost your school's profit.
The SWEEDU School ERP Software is complete software for school management solutions for every educational institute, big or small. It helps you to bring your school online without any extra hassle.
Complete with your website and social media, SWEEDU School ERP Software can allow you to reach students and parents farther away from your local region.
There are many reasons to choose SWEEDU School ERP Software like:
Many pricing packages to suit your need

Customized Smartphone Application for Teachers and Parents

Website creation and handling

Feature-packed to help everyone

10+ Login Profiles

Wide range of deployment to choose from

Online and offline availability

Advanced integrations for better school experience

Implements seamlessly with your institute

Regular updates for the latest functionalities
SWEEDU School ERP Software gives you complete software for school management experience. It has easy-to-use features, a functional UI, and simple navigation throughout the software.
The creators of SWEEDU have more than 11 years of experience in the field of education technology. During these years, they have worked with 250+ schools and educational institutions. With this experience, we understand the needs and requirements of your school.
Our support team is always on standby to help you out whenever you need help with the software and anything else related to it. They make sure that you are duly onboarded with all the necessary information. This information is required to use the school software efficiently. So that your school or educational institution can thrive.
How SWEEDU School ERP Software Reduces Staff Workload
As mentioned earlier, the SWEEDU School ERP is useful for everyone at the school. It offers modules and features that simplify the work of everyone. It has features for the school administrator to even the school bus driver and conductor.
With its fast, secure, and flexible operations, SWEEDU School ERP gives you a carefree school management experience that you can share with all your stakeholders.
School ERP Software for Administrators
SWEEDU School ERP software is helpful for school administrators in many ways. It helps to organize the school database into a neat, understandable, and easily retrievable format.
The features that are created to make the administrator's task easier include:
Student Management
To manage student records and data more efficiently and keep it safe and secure for as long as needed.
These records may include personal information, progress reports, leaves, medical reports, etc.
All the data is securely stored in a cloud-based server (only for online deployment). It keeps your school's student data safe and secure with high-grade encryption to protect it from any physical or virtual damage or loss.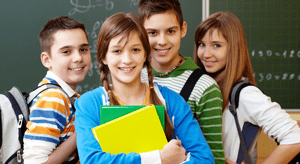 Employee Management
To create, view, and manage employee data. This includes their salaries, leaves, and other important information.
The employee management feature allows the administration to keep a track of employee information, salary records, etc.
The information is shared with the employees (teachers and other staff). That way it is kept updated and manage easier communication between the school administration and teachers.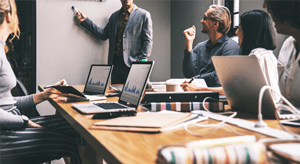 Online Admissions
Manages admissions online. No need to organize admission events at the school or managing long parent queues.
Online admissions allow the school administration to manage the complete admission process online. It reduces the use of school stationery like papers, pens, etc. which eventually leads to more eco-friendlier methods.
It also reduces the manpower required to organize the admission process at the school and saves resources that are used for the same.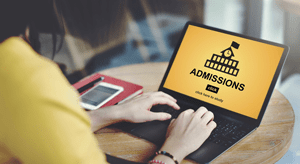 Fees Management
To manage fees received online without having to physically keep a record of every receipt given out.
With the payment gateway integration, schools can receive fee payments directly from the parent's bank to their bank account. The payment gateway integration makes every payment secure and much safer than the physical exchange of money.
It also improves the transparency between the school and parents as every online payment is recorded not just by the school but also by banks.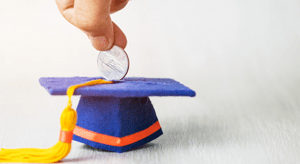 Daily and Lecture-wise Attendance
To manage fees received online without having to physically keep a record of every receipt given out.
With the payment gateway integration, schools can receive fee payments directly from the parent's bank to their bank account. The payment gateway integration makes every payment secure and much safer than the physical exchange of money.
It also improves the transparency between the school and parents as every online payment is recorded not just by the school but also by banks.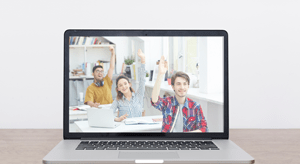 Transport
To create, manage, and supervise bus routes for increased student and employee safety during transit.
Administrators get a list of every student and employee and their pick-up spots. Based on that, they can create a bus route for school bus drivers/conductors to follow.
It increases child safety while on road and optimizes the trip to and from school to pick up and drop the most number of employees and students in one go.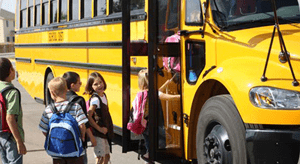 Announcement
To send important notifications and reminders to every stakeholder of your educational institute.
These notifications may range from event announcements, fee reminders, payroll notifications, and similar others.
The administrator can send these announcements to parents and teachers. They will receive it on the school management mobile applications as a push notification or in the form of an SMS to their cell phones.
With WhatsApp integration, school administrators can also send important notices for the parents, students, and teachers directly on their WhatsApp.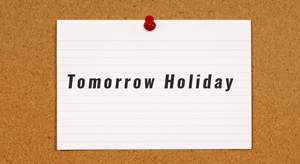 Hostel Allocation
To efficiently manage the hostel buildings, rooms, facilities, and amenities available.
With the hostel allocation feature, administrators along with hostel wardens can keep a tab of the hostel facilities. How many rooms are available for the taking, what facilities are present, and which ones need to be added to it, etc.
The detailed information of hostels helps the administrator know when there is a need to add any extra inventory or facility to the hostel.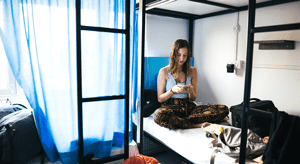 Scholarship
Makes sure that the most deserving students are automatically chosen from their exam result records. Only the best will get your prestigious scholarships.
The school software filters out students that fit your criteria of a scholarship. It helps you choose from a smaller list. The choice of students is based on the criteria that you set beforehand.
From the filtered list of students, you can choose the students who truly deserve the scholarship. You can choose them based on their results, school conduct, and overall performance.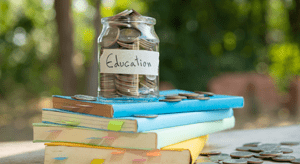 And many more…
With these features along with our range of online and offline deployment options, the Administrators, Principals, and Heads of the Departments can manage all the major management tasks with the help of SWEEDU School ERP.
School ERP Software for Teachers
The school software offers teachers a digital way of teaching and maintaining their profile at the school. It gives them tools that will help them to provide a higher quality education that is easy to understand for the students.
Teachers manage the students, class, and everything related to learning and teaching. They have the greatest responsibility to give quality education to the future generation.
SWEEDU School Management Software helps the teachers to assist them in performing their responsibilities most efficiently with dedicated features like: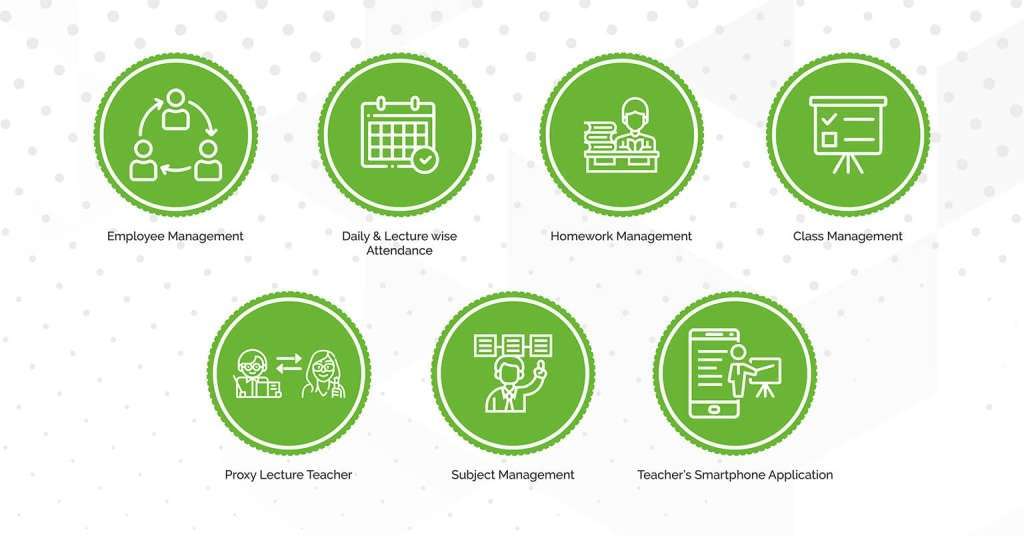 Employee Management
To view and edit their employee profile for leaves, substitute teaching, and payroll information.
Teachers can see their tasks, timetable, personal details, leave reports, and payroll details with this feature. Apart from them, these details are only visible to the administrator.
No other login profile can access this data. Thus, keeping it safe and secure on the cloud-based server (only on cloud-based deployment options)
Daily and Lecture-wise Attendance
For keeping a track of student attendance daily and every lecture throughout the day.
Similar to how the administrator can track teacher attendance, teachers can track and record student's daily and lecture-wise attendance. With the biometric integration, students will only have to register their fingerprints to be marked present.
It reduces the time and effort required to take daily attendance. It also avoids most chances of human error that may occur while manually taking the attendance.
Homework Management
To communicate homework and upload related study material on the panel for students and parents to view and download.
Teachers can send a notification to the parents about the homework uploaded on the panel. They can also attach any relevant study material for the students to view and download for their reference.
It will reduce the amount of error happening in student homework. Students will know exactly what the teachers are expecting in their homework with the written description and reference materials.
Class Management
For effective classes and teaching schedules resulting in better time management.
Teachers, along with HODs, administrators, and principals, can allot classes to certain grades. They can do so based on the class strength and requirements.
This helps in allocating the right classroom to the right grade so that their studies do not suffer.
Proxy Lecturer Teacher
To assign and take proxy of teachers absent for the day.
Just as teachers can use their profile to add leaves, they can also use it to assign a proxy to another teacher to fill in their spot while they are absent.
Teachers can see whose substitute they are going to be and for which class at which hour and other similar details. All these details about the proxy are present in their profile under the proxy lecture feature.
Subject Management
To break down the subject into understandable bites for students to learn the subject faster and remember it for longer.
Segregate chapters, add assignments, homework, co-curricular activity, and similar other things to help make learning fun for students with the subject management feature.
Teachers, along with administrators, principals, and HODs can only access this feature.
Teacher's Smartphone Application
To manage all the above things and more right from their phone screens.
Teachers can manage their employee profile, take class attendance, conduct smart classes, add video tutorials, send homework, and more using their school management smartphone application.
The mobile application is connected with the school software. This allows teachers hassle-free management of their work remotely through their smartphones.
With these features and modules, teachers can manage their roles more easily and productively. Moreover, the mobile application for teachers allows them to manage all their tasks, activities, and information on the go.
School ERP Software for Students
Students can leverage the school management system to manage their studies more efficiently. The helpful resources available within the school software encourage a better understanding of each subject.
Students are the most important part of any educational system. Hence, the school administration must give them all the required facilities to give them a better learning experience.
That being said, students are getting more used to flexible learning schedules. These allow them to understand and remember each concept of their studies at their own pace. SWEEDU School ERP Software helps students with different features. All these features help them to gain more access to quality learning whenever and wherever they want.
These features include:
Smart Class
To help students attend online classes whenever conducted.
Smart classes allow students to learn from the comfort of their homes when they cannot attend school physically. It offers dedicated tools that help the students and teachers to communicate with each other more efficiently.
These tools include the raise hand feature, whiteboard sharing, and real-time chat, and more.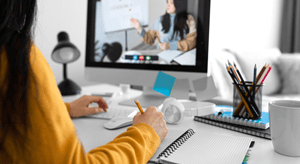 Video Tutorials
To allow students to access offline lecture videos so that they never miss any class.
Students can access the video lectures that teachers upload on the panel. These videos are stored on the cloud for easy access from wherever they want. Students can also download these videos to watch them later without an internet connection.
The video tutorial feature makes sure that the students do not miss any important topics. With this feature, the teacher can give students all the material to study before the exams.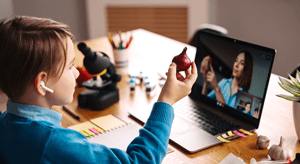 Online/Offline Exam Management
For students to give exams online and receive all the information regarding offline exams.
Similar to learning from home, the school software also gives the student the flexibility to give exams remotely with online examination management.
Students can also get all the details related to the offline exams on the panel from their or their parent's login.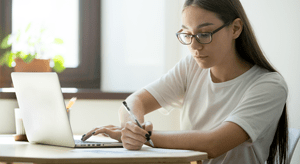 Daily and Lecture-wise Attendance
To make sure that there are no mistakes in the attendance taken by the teacher.
This feature is helpful for students to mark their attendance with biometric integration. Thus it avoids errors like mismarking or getting marked absence.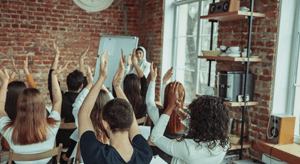 Homework Management
For easy and offline access to homework-related downloadable material uploaded by the teacher.
The homework management feature allows students to get the homework instruction correctly. Furthermore, it allows them to download the reference material.This reference material is uploaded by the teacher on the school ERP panel.
They can access the important points of a lecture whenever they want with the downloaded material. Whether they have access to the internet or not.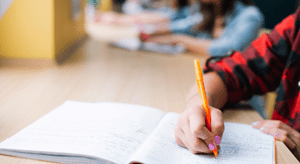 Timetable Management
For better preparation of the next day or subject.
Timetable management allows students and teachers to prepare for their upcoming day. Teachers, HODs, and principals create the timetable to provide an all-around growth of a student. They do so by including curricular, co-curricular, and extracurricular activities in their schedule.
With the timetable they receive, students can ensure that they have all the required material for the next day or class.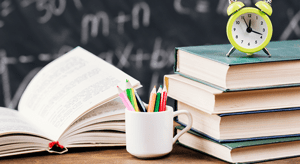 School ERP Software for Parents
The school management system offers smart and intuitive features that improve transparency between the parents and the school. This increases their trust in the institution and reduces their worry over their child's safety.
Parents are always worried about their child's progress in school and so they need to be updated regularly on their academic status. However, the traditional way of doing things includes a parent-teacher meeting at the end of each semester. That makes it only twice a year.
When you think of the six-month worth of progress report summarizing into one single meeting, there are bound to be important events being left out because of the sheer amount of information.
SWEEDU School Management Software gives higher transparency to parents. With the school ERP software and all its features, parents can constantly keep a tab on their child's progress. They can also manage every other school-related task.
These online school management software features for parents include: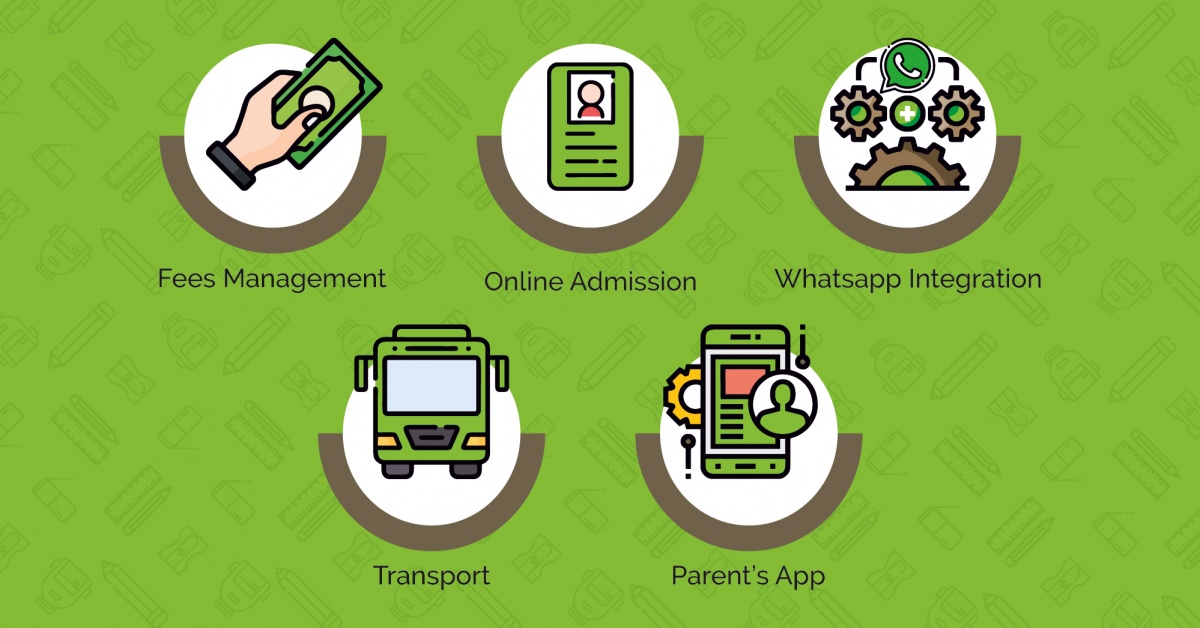 Fees Management
To pay fees online using smart payment gateway integration on your mobile phone or computer.
The fees management feature with payment gateway integration allows parents to pay fees using various methods. These methods include UPI, NEFT/RTGS, online wallet, internet banking, or credit/debit card.
Because the payment is done securely from bank to bank, parents will have a detailed record of every transaction they have done with the school.
Online Live Admission
To complete the school admission process without going to school physically or waiting in long lines.
With the online admission feature, parents can inquire about admissions, fill up the admission form, upload necessary documents, and send it to the school directly from their computer screen.
They can also let their child attempt the entrance test online from the same interface if available. Moreover, the parents can also pay their child's admission fees from the same interface.
WhatsApp Integration
Enables easier and faster communication between the school and parents. For updates on the child's regular progress, important reminders, and notifications from the school.
With the WhatsApp integration, parents will be able to receive rich texts from the school administrators and teachers. These texts can include result copies, homework materials, fee payment receipts, event videos and photos, and much more.
Transport
To keep a tab on your child's safety during transit while staying connected with the school bus driver or conductor.
With the transport feature paired with GPS integration, parents can track their child's school bus in real-time. They will also get notification from the driver/conductor (with the dedicated driver's mobile application) on instances like students boarding the bus, leaving the bus, not boarding the bus, when the bus is nearby, or when it is stuck due to a transit mishap.
With the transport feature, parents can ensure their child's safety even while traveling to the school and back.
Dedicated Parent's Smartphone Application
It offers all the parent and student-related features in one single smartphone app that can be useful for parents and students.
All the important notifications, announcements, and reminders are sent to the parent's mobile application. They receive it in the form of a push notification. It ensures that they do not miss any important updates.
Even students can use this application with their parent's login. They can use it to access video tutorials, attend online smart classes, download homework and so much more.
And many other features make SWEEDU School ERP Software the choice of many parents. With the right integrations like WhatsApp, GPS tracking, and Payment Gateway, parents can get more transparency about their child's academics, the fees they pay for it, and the communication they expect from the school.